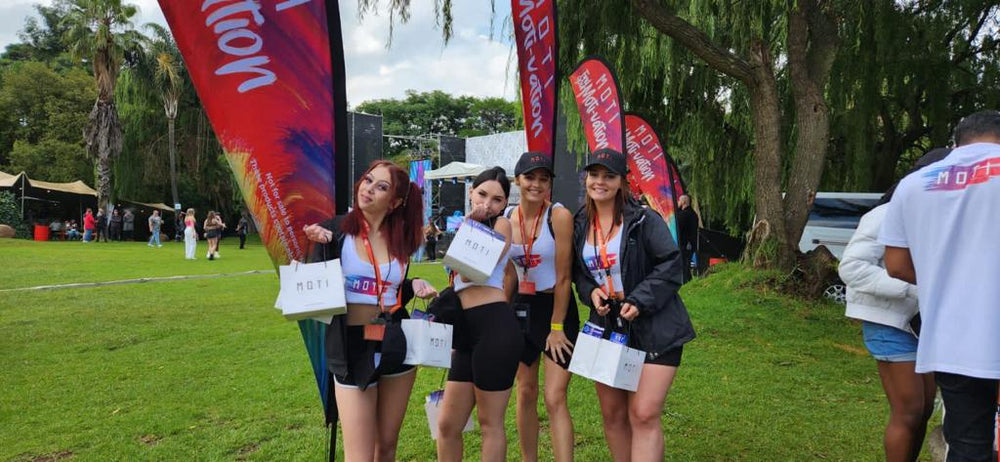 BY Mozart Liu @ January 06, 2023
Last weekend, MOTI successfully joined hands with the H2O Party New Year's Eve Music Festival. More than 200 artists and more than 50,000 fans participated in the 2023 New Year's Eve Music Festival. On December 31, thousands of festival-goers headed to Cape Town's Ostrich to make fond memories.
In addition to exciting performances, this is also the perfect playground for artistic influencers, with all kinds of famous scenes on stage. The well-known e-cigarette brand MOTI also joined the wonderful music party, bringing a unique and interesting experience to music fans.

Why do MOTI Vape and music festivals go hand in hand?

the reason is simple. People go to music festivals to relax and enjoy music. The nicotine salt in the MOTI e-cigarette can effectively stimulate the secretion of dopamine in the brain, bringing a pleasant and soothing feeling. At the same time, most music festivals are held outdoors. MOTI not only has no open flames and cigarette smoke but also is more environmentally friendly and easy to use.

One of the reasons why MOTI has always been popular with customers is the variety of flavors. This time MOTI brought MOTI ONE 4000 and MOTI Vision to the local audience, as well as their most traditional MOTI PIIN series. These come in convenient crystals and come in comfortable, colorful spouts, and the most popular flavors include Sweet Strawberry, Watermelon Ice, Blueberry Sour Raspberry, Passion Fruit, Peach Ice, and Menthol.

What makes the MOTI a must-have for music festivals?

On the one hand, MOTI understands that smoking is always an irritant at large outdoor gatherings like music festivals. Traditional cigarettes not only have to carry cigarette cases, lighters, and matches but also deal with ash and cigarette butts; for non-smokers, second-hand smoke is a big problem everywhere. That's when MOTI becomes a must-have.

MOTI uses neutral and mild organic nicotine salt and tar-removing ingredients, as well as high-quality organic cotton. While maintaining consistency, it restores a purer and smoother taste, allowing users to enjoy the music party to the fullest.

Not long ago, MOTI won the MUSE Design Award in the 2022 International Design Awards, adding to its international reputation. MOTI has been recognized by the audience and the media for its excellent product power and brand power.

H2O NYE Music Festival, with its strong guest lineup and event scale, has become a new benchmark in the mainstream music festival market since its inception and has been sought after by countless music fans. As a pioneer in the disposable electronic cigarette industry, MOTI always puts social responsibility first, sets an example, and strictly prohibits the sale and marketing of electronic cigarette products to minors through any channel.
MOTI reaches out to millennials through this big festival. Through these dialogues and interactions, the new generation of consumers has a better understanding of MOTI, its brand spirit, and social responsibility, and its positive influence has increased.
Read More