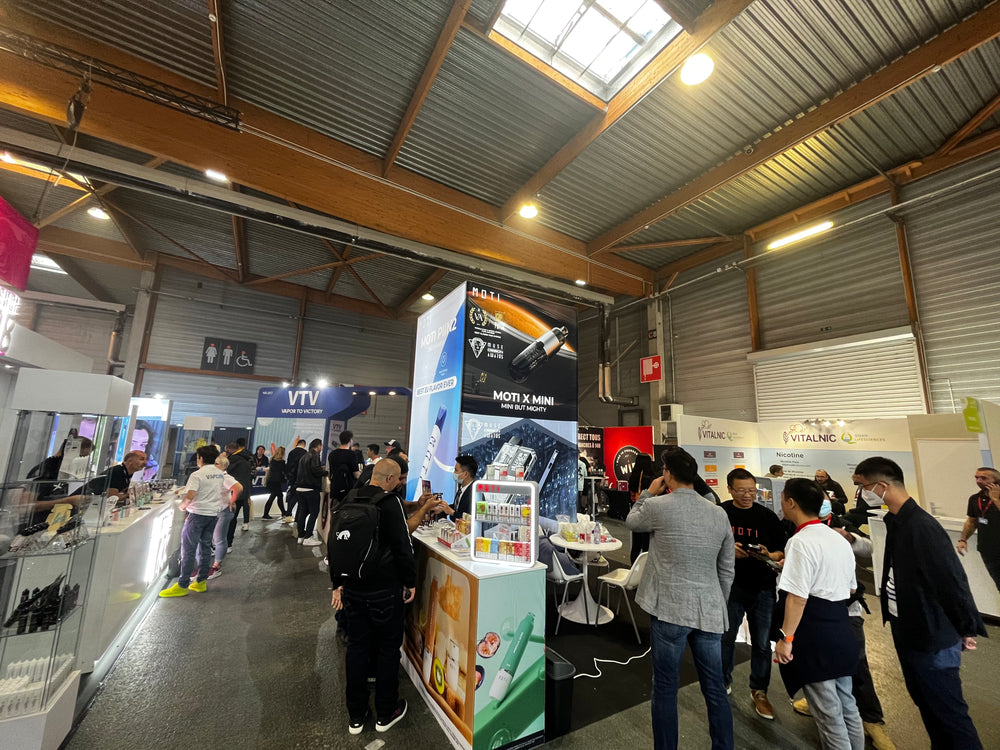 BY James Miller @ January 03, 2023
No.1  THE VAPEXPO
It is the pioneer and founder of the French Electronic Cigarette Exhibition in the Industry. Since the first exhibition in 2014, it has confirmed its leadership in the international trade exhibition organization and focused on electronic cigarettes and their participants.
All professionals in the industry will be allowed to discuss, share, experience, and learn more about new products with e-cigarette manufacturers. As a reference, promote products and materials to meet the requirements of domestic and international participants in an ideal environment. Manufacturers of electronic cigarette juice and equipment, mold makers, wholesalers, store managers, health experts, and critics will meet at VAPEXPO.
MOTI is an old friend of VAPEXPO. Since the establishment of the MOTI brand, nearly every exhibition has been attended and a good cooperative relationship has been established with local partners to jointly promote the healthy and stable development of the electronic cigarette industry.
No.2  THE ALTERNATIVE PRODUCT EXPO
Today, USA CBD Expo has expanded its show to include a wider range of alternative products, such as kratom, nootropics, mushrooms, dietary supplements, vapes & nicotine replacements, energy beverages, hemp derivatives, and pretty much every kind of product-disrupting traditional markets.
The event is expected to be the largest gathering of leading CBD brands, manufacturers, and wholesalers in the industry. More than 700 CBD, marijuana, and cannabis suppliers will be attracted to sell different products in the CBD industry and provide CBD introduction. In addition, the exhibition will also invite lawyers, CEOs, entrepreneurs, brand experts, and other professionals from the CBD industry to give keynote speeches and educational seminars.
The American Tampa Cannabis and Electronic Tobacco Exhibition (USA CBD EXPO) is a major forum for pharmacy owners, growers, suppliers, investors, medical professionals, government regulators, legal advisers and e, and entrepreneurs. They hope to achieve commercial success in this dynamic and rapidly growing industry and discover new growth areas.
With the successful legalization of marijuana, California, Nevada and Massachusetts agreed that marijuana can be used for leisure and legal cultivation and manufacture, while Florida, North Dakota, and Arkansas agreed that marijuana can be used for medical purposes. In the future, the future development of energy-saving technology has gradually become an important link in cannabis-related businesses and agriculture. The American Tampa Cannabis and Electronic Tobacco Exhibition (USA CBD EXPO) attracts representatives of cannabis enterprises from all over the world to participate every year, focusing on the future development trend of the cannabis market.
No.3  THE WORLD VAPE SHOW
The World Vape Show, launched in September 2021, was the first international vape expo and conference in the UAE, and one that proved to be a BIG hit.
It provided global manufacturers and suppliers a unique opportunity to showcase hundreds of products to thousands of international retailers, wholesalers, distributors, and consumers in Dubai.
Now, the WVS brand has expanded and developed to become the fastest-growing vape event in the world with events in the UK, UAE, South America, and Asia.
MOTI Stunned the World Vape Show, Unveiling its Plans for the Global Market
The World Vape Show will provide a unique opportunity for manufacturers to show their products to thousands of international retailers, wholesalers, distributors, and consumers in the UK. The main products are plastic suction machinery and hardware, electronic cigarette, pipe and hookah equipment, heat-resistant and incombustible products, electronic liquids, detection technology, etc.
Launched in September 2021, the World Electronic Cigarette Fair is the first international electronic cigarette fair and conference held in the United Arab Emirates and has proved to be a big hit. World Vape Show is the fastest-growing and currently the largest electronic cigarette show of its kind. Its rate of return will continue to drive the boundary value and ensure an attractive experience for exhibitors and visitors.
World Vape Show has established new relationships with major players in the industry, exploring the latest and the most popular manufacturers and products and establishing brand awareness in the event of fully targeting electronic cigarette sellers and consumers. It provides a high-quality platform for enterprises that want to enter the market, improve business or establish new trade relations.
NO.4  HCS RUSSIA
Hookah Club Show is the most important hookah show in the tobacco industry in Russia. Many new products in the electronic cigarette and cigarette industry were displayed, mainly including electronic cigarettes, cigarette sets, e-cigarette juice, cigarette paste, and various related products and accessories. A large number of senior buyers and customers from Russia and surrounding regions are gathered.
With the development of the global tobacco and cigarette accessories industry, various cigarette accessories markets in Russia, Northern Europe, Eastern Europe, Central Europe, and other regions have attracted extensive attention again. Hookah Club Show in Russia can attract a large number of high-quality physical buyers and players.
As the largest hookah show in the world, it gathers exhibitors and audiences from all over the world. The exhibition is growing every year, with one-third of the area and the number of exhibitors growing every year. If you like hookah or engage in the tobacco business, you must participate as an exhibitor or visitor.
Read More