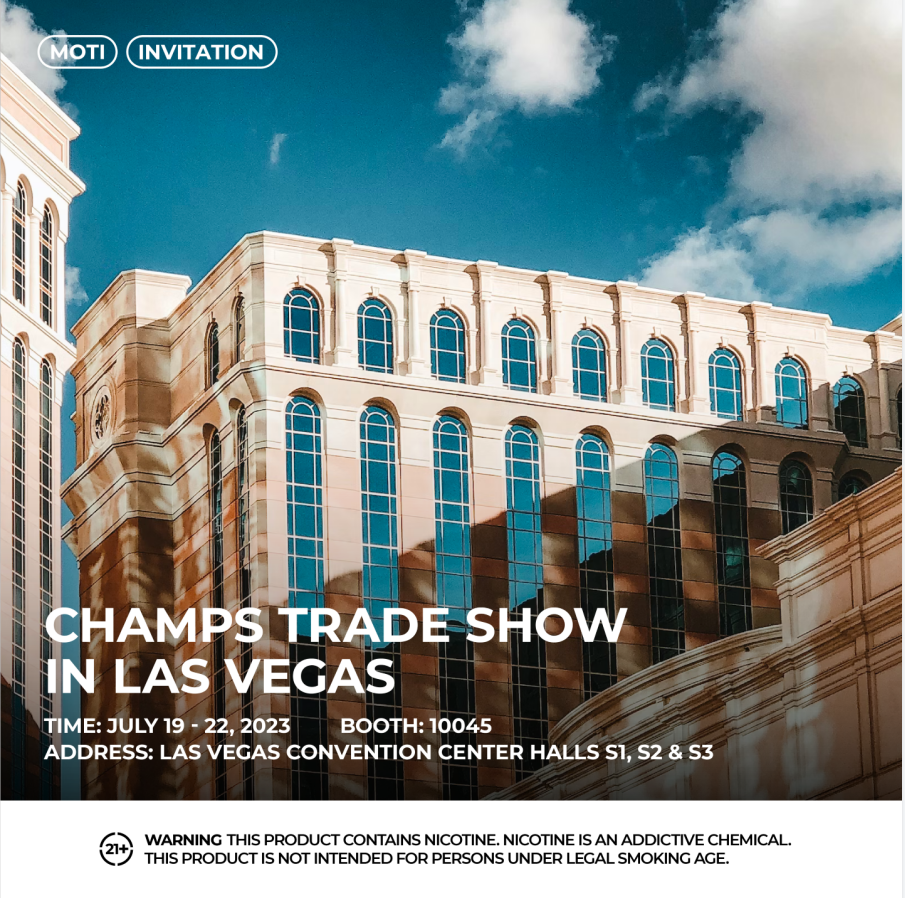 BY James Miller @ July 12, 2023
Widely regarded as a hub for innovation and trendsetter, the Las Vegas, will host the Champs Trade Show July 19-22, attracting the biggest names in every industry. The Champs Trade Show is highly regarded as a B2B trade event, and since 1999, the Champs Trade Show has been widely regarded as the world's largest and most trusted counterculture trade show, attracting the industry's leading exhibitors, and thousands of buyers all over the world. This highly anticipated show provides a platform for renowned brands to showcase their products, network with key players, and learn about the latest industry trends. As one of the largest trade shows in the United States, the Champs Trade Show is a must-attend event for companies looking to make a name for themselves in their industry.

Like many vape brands, MOTI is one of many prestigious players. At the Champs Trade Show, visitors will explore the most advanced vape equipment and experience the future of electronic cigarettes with many vape enthusiasts and industry professionals.


At the Champs Trade Show, MOTI will be showcasing a range of cutting-edge devices including the MOTI Ultra 6000, MOTI Play Bar 7500, and MOTI Duo9000, sparking anticipation among visitors. From discreet pod systems to all-in-one disposable, MOTI provides a detailed product lineup to meet the diverse needs of customers. The brand's dedication to delivering exceptional quality and flavor is sure to resonate with travelers looking for the ultimate vaping experience.

MOTI ULTRA 6000 is an excellent disposable vape product with an ultra-thin and lightweight design. It has a built-in 650mAh rechargeable battery, providing long-lasting performance for vaping enthusiasts. Built-in advanced mesh coil technology creates a powerful and explosive taste, and each puff provides a consistently smooth draw that is rich and satisfying. The flat and comfortable mouthpiece design fits the lips better, reduces pressure when placed on the chin, and enhances the smoking experience. MOTI ULTRA 6000 has 16ml of high-quality e-liquid, supports up to 6000 puffs, and is an excellent choice for vape users who pursue long-lasting performance.

The MOTI Play Bar 7500 is a stylish, portable pod system that has caused quite a stir in the vaping world with its outstanding performance and classic stylish appearance. This pocket-sized vape has a built-in small screen, allowing users to check the power and remaining e-liquid at any time, providing a worry-free vape experience for beginners and experienced vape enthusiasts. The Play Bar is equipped with a large battery capacity of 750mAh, and 7500 puffs of suction, this longer-lasting performance eliminates the hassle of refilling or charging, bringing a long-lasting, uninterrupted smoking experience. The eye-catching design further adds to its appeal, exuding a unique MOTI style. The MOTI Play Bar is sure to be the center of attention at the Champs Trade Show.

For cloud chasers and vaping enthusiasts looking for an exciting vaping experience, the MOTI Duo 9000 delivers unrivaled power and performance. This rechargeable pod system is equipped with a 20ml large-capacity e-juice tank and a powerful 850mAh battery, which can provide users with long-lasting enjoyment. Each MOTI Duo 9000 is equipped with two mesh coils, allowing the user to seamlessly switch between the modes: single mesh or boost mode(dual mesh), delivering an intense nicotine boost without compromising flavor production or vapor volume. Thanks to MOTI DUO MESH COIL technology, this innovative dual coil system sets the standard for delivering superior flavor and satisfaction in vapes.

In addition to showcasing its impressive products, MOTI is keen to collaborate and form valuable partnerships with industry professionals at the Champs Trade Show. The Champs Trade Show provides fertile ground for collaboration among suppliers, distributors, and retailers. By forming an alliance within the vaping industry, MOTI aims to expand its reach, strengthen its distribution network, and strengthen its position as a market leader.

MOTI's presence at the upcoming Champs trade show in Las Vegas, July 19-22, will surely attract more big players in the vape industry to compete in the show. MOTI is poised to unveil an impressive array of cutting-edge equipment, poised to captivate attendees and industry insiders at this prestigious event. With its relentless pursuit of vaping innovation, The Champs Trade Show is an important platform for MOTI to demonstrate its commitment to quality, safety, and consumer satisfaction. Stay tuned for exclusive live demonstrations of these exceptional products at the Champs trade show, July 19-22.
Read More