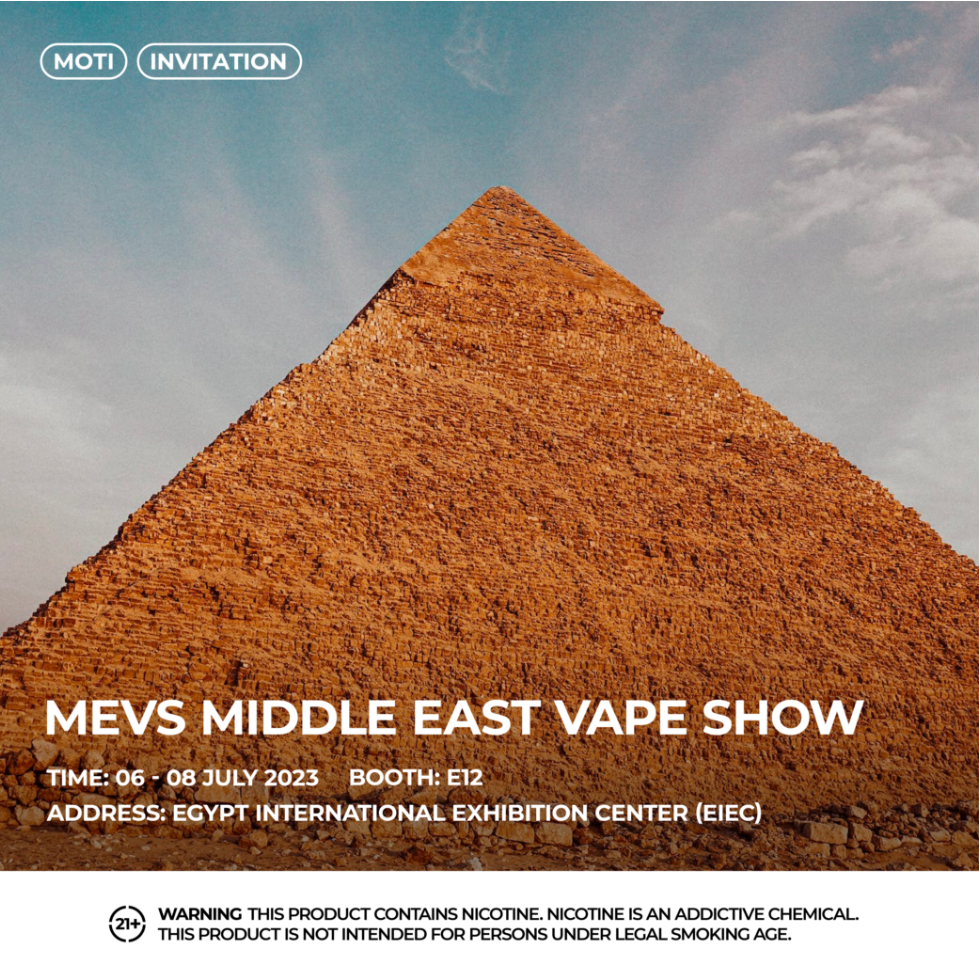 BY James Miller @ June 30, 2023
One of the most anticipated events in the vaping industry, the MEVS (Middle East Vape Show) promises to showcase the latest trends, innovations, and cutting-edge products for vaping enthusiasts worldwide. Taking place from July 6-8, 2023, this event will bring together industry leaders, distributors, retailers, and passionate vapers under one roof. Among the notable participants set to captivate attendees' attention is MOTI, Its participation is bound to be a remarkable event.

Last year, the Middle East vape show attracted 150 world-renowned vape brands and 15,000 vape enthusiasts to participate in the exhibition. From this, it can be seen that the Middle East, as an emerging market for vapes, has huge growth potential. MEVS plays a vital role in connecting global vaping brands with vaping industry professionals, buyers, and consumers from the Middle East. This annual event has garnered a reputation as a platform that facilitates business collaborations, market insights, and public awareness for e-cigarette brands. With a focus on the Middle East market, MEVS offers unparalleled opportunities for brands to showcase their offerings, expand distribution networks, and forge influential partnerships.

At the MEVS Middle East Vape Show 2023, the main shows will include open oil filling, disposable, large vape equipment, HNB, e-liquid, etc. MOTI will unveil its latest line of groundbreaking disposable vaping products, MOTI Play Bar 7500, and MOTI Zip 7000, sparking anticipation among visitors.

MOTI Play Bar 7500 will be a highlight of this MOTI exhibition. With its sleek and compact design. MOTI Play Bar is equipped with screen features to provide users with an excellent vaping experience. It allows the user to see the battery capacity and the used e-juice capacity at any time. Not only the appearance design but also its performance has been highly appreciated by many users. There is a 360-degree airflow adjustment knob at the bottom, users can freely customize the air volume, choose the most comfortable airflow, follow the pre-filled nicotine concentration of 50mg/mL nicotine essential oil in the 18ml fuel tank, and enjoy the ultimate taste experience. The MOTI Play Bar also comes in a variety of color styles, giving users a variety of options to suit their preferences.
MOTI Zip 7000 is the latest vape product launched by MOTI, and it is the best vape for long-distance travel. Equipped with innovative technology and a sleek design, the Zip 7000 promises to make waves in the vaping world. Zip 7000 will provide a capacity of 7000 puffs and a large battery of 2000mAh, allowing users to travel with less worry and effort, and not have to worry about battery life or lack of e-liquid during the journey. It has a strong taste and bursts of aroma, allowing users to enjoy smoking more, experience the sensation of exploding taste buds, and provide an extraordinary vape experience. At the MEVS Middle East Vape Show, MOTI Zip 7000is expected to bring users  a more satisfying and longer-lasting vaping experience


MOTI's presence at the MEVS 2023 will be a highlight of the event. MOTI's focus on innovative products, commitment to safety, and dedication to creating meaningful connections with vapers is sure to captivate attendees and leave a lasting impression. As the vaping industry continues to grow, MOTI's presence at this prestigious event demonstrates its determination to continue to be a trusted and pioneering force in the vaping world. If you are passionate about vaping and interested in exploring the latest advancements in the field, be sure to visit E12 the MOTI's booth at MEVS to experience their exceptional products for yourself.
Read More