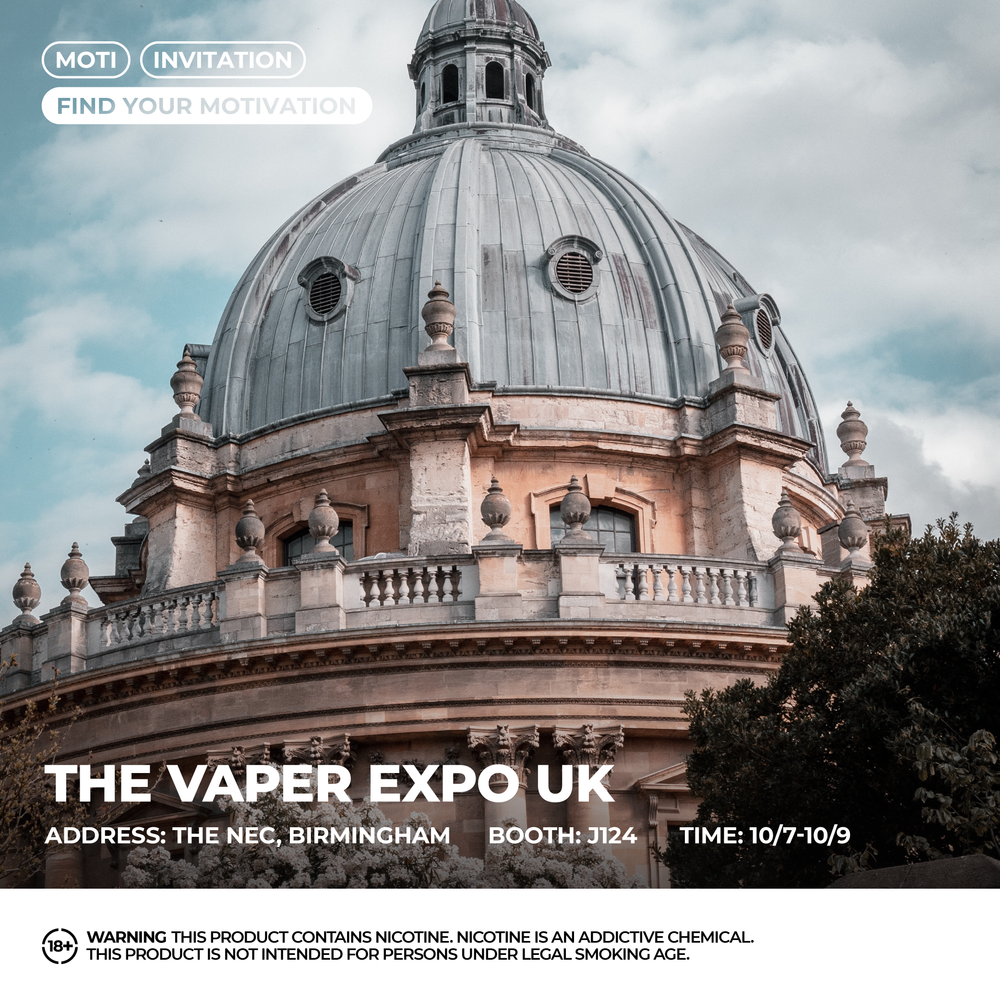 BY Mozart Liu @ September 30, 2022
The UK Vape Expo has always been pushing the boundaries and has more fun and exciting things planned for vape users from all over the world, it's rapidly transforming into a well-known event with many other events like the Vapouroud Bus will be stopping by the event, who MOTI has joined hands with, a healthy vaping tour started earlier on August, will surely be attracting more visitors.



Recognized as the largest and most important vaping event in Europe, the UK Vaping Expo is a must-attend fair for all UK, European and international manufacturers, suppliers, and distributors. The Expo brings in and unites key players within the industry, acts as the premier platform for launching new products and services, and is the hub of the Central European vaping industry.

Many Vape Brands are showing up with their latest vape products, heralding the up-to-date new trend in the vape industry. As one of the famous vape brands in China, MOTI this time is the second visit to the vaping city -- Birmingham! It will bring more advanced and trendy products to the world's users.

As the show reaches new heights every year, it guarantees the best possible experience for exhibitors and visitors. The vaper expo has always been known for a fun and lively environment, especially during our consumer days, when trade visitors from all over the world flock to our B2B days to meet new contacts and negotiate deals with the world's leading suppliers.
The MUSE Design Awards is known for its strict judging system and high-quality standards, with a jury of 37 members. MOTI's MOTI X Mini, MOTI Play, and the MOTI Beaker 5000 have won prestigious awards among thousands of other entries in this category from around the world.

The UK Vape Expo has always been pushing the boundaries and has more fun and exciting things planned for vape users from all over the world, it's rapidly transforming into a well-known event with many other events like the Vapouroud Bus will be stopping by the event, who MOTI has joined hands with, a healthy vaping tour started earlier on August, will surely be attracting more visitors.

Traders and consumer visitors come from all over the world and use the event as a meeting point to network with like-minded people, benefit from the widest range of products and try out new fluids and equipment, all while having a great time.

Don't miss out on this great event!
THE VAPER EXPO UK
ADDRESS: THE NEC, BIRMINGHAM
BOOTH: J124
Read More