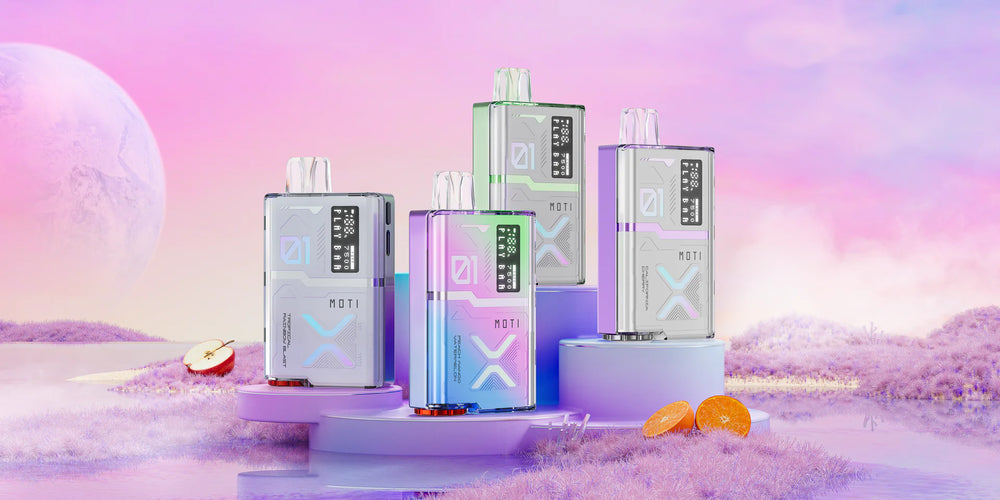 BY James Miller @ July 06, 2023
With the vigorous development of the vape industry, finding the perfect vape experience has always been the goal that vapers are constantly pursuing. Today, we are pleased to introduce to you the MOTI Play Bar 7500 - a stylish and practical disposable vape device.

MOTI Play Bar 7500 fashionable and novel appearance. It features a classic yet modern boxy design that combines angular lines with a soft and flexible feel. Featuring futuristic mechanical graphics and beautiful aluminum shades, it creates an eye-catching appeal. The slim and compact bottle fits easily in your pocket or purse for easy on-the-go travel. It's available in eight vibrant colors, including Multicolor, Silvery, Rose Gold, Green, Purple, Golden, Blue, and White, allowing you to express your style freely.
What sets the MOTI Play Bar 7500 apart from another disposable vapes on the market is its unique features configuration. The built-in display on the device provides real-time updates on battery life and remaining puffs. This feature allows users to track their usage and ensure they always have a satisfying vaping experience. The device has a built-in child lock function, which can be activated/deactivated with only 5 presses of the button. This convenient and intuitive design ensures a hassle-free experience even for beginners.
Another noteworthy feature is the 360-degree adjustable bottom airflow knob on the bottom of the device. This allows you to tailor the airflow to your desire, resulting in a more enjoyable vaping experience. The integrated mesh coil inside the pod enhances vapor production and provides a rich and full flavor profile. Whether you prefer an MTL or RDL draw, the MOTI Play Bar 7500 ensures you personalize your vaping experience to suit your needs.
In regard to its performance, the MOTI Play Bar 7500 will never disappoint you. With a massive 700mAh battery capacity, each device delivers an impressive 7500 puffs. This means you can enjoy your favorite flavors for a long time without worrying about running out of vape. The device side is equipped with a Type-C charging port to ensure the convenience of charging. Additionally, the high nicotine concentration of 50mg/mL provides a strong and satisfying boost, making it suitable for heavy smokers looking for an alternative.
Since its launch, MOTI Play Bar 7500 has been well-received by the market. Users expressed satisfaction with the device's superior flavor delivery and its ability to replicate the sensation of smoking without the deleterious effects associated with traditional cigarettes. Many have praised its convenience and portability, making it the perfect companion for travel, work, or social outings. Overall, the MOTI Play Bar offers a stylish and functional vaping solution, it is ideal for both new vapers and frequent users on the move.


In the ever-evolving world of vaping, the MOTI Play Bar 7500 stands out as a game changer. By combining maximum convenience, superior flavor production, adjustable airflow, and user-centered design, this disposable e-cigarette sets a new standard for vaping devices. With positive market feedback and a brand vision dedicated to providing innovative, high-quality vapes, MOTI will surely lead the trend and bring a safer and more enjoyable vaping experience to all.
Read More