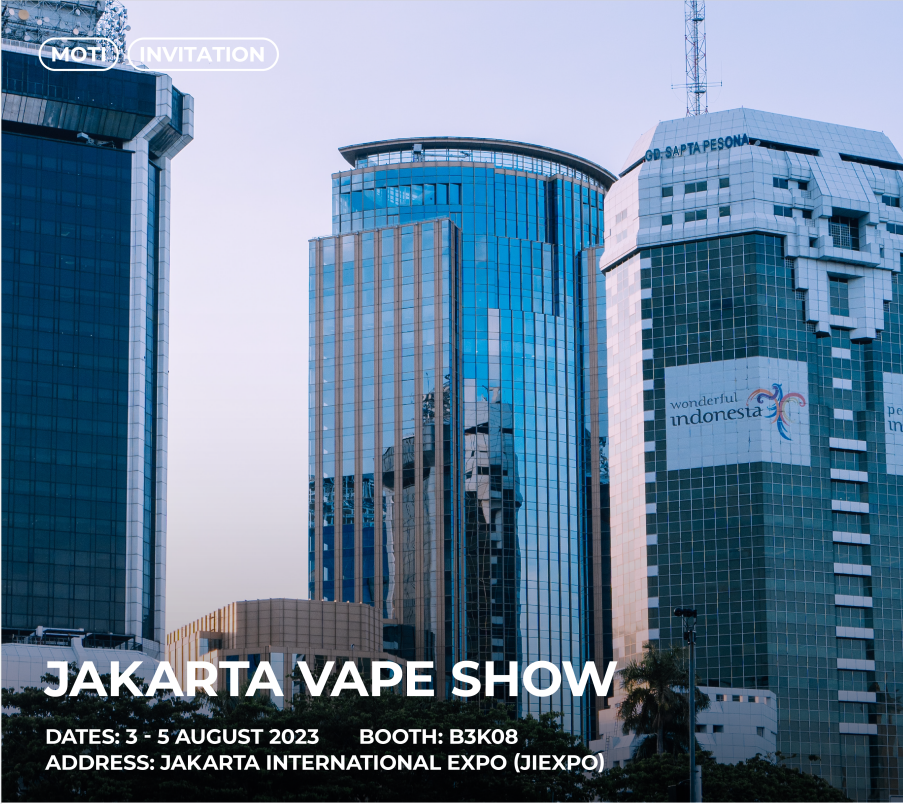 BY James Miller @ July 25, 2023
JAKARTA, Indonesia - MOTI, a leading player in the vape industry, is thrilled to announce its participation in the upcoming JAKARTA VAPE SHOW from August 3rd to 5th, 2023. At that time, not only many brands will appear, but you can also see cutting-edge vape products and designs, and participate in discussions with industry experts to witness the stunning performance of many vape brands.
The Jakarta Vape Show has gained a reputation as one of Southeast Asia's largest and most influential vaping exhibitions. Last year, the Jakarta Vape Show attracted 100+ vape brands and 6,000+ visitors from 49 countries and regions. This year, it is expected to attract more than 300+ vape brands and 10,000+ visitors to experience the latest trends, technologies, and products, an event bound to shape the vape industry.

Spanning a colossal exhibition space, the event welcomes vape enthusiasts, retailers, distributors, manufacturers, and industry experts. Exhibitors will be showcasing the latest advancements, trends, and innovations in the vape world.


Like many other big brands, MOTI, renowned for its dedication to excellence, is preparing to captivate audiences with its exceptional lineup of products. From the sleek and stylish MOTI S Lite to the versatile MOTI PLAY, users can expect an array of options that suit their preferences and needs. Additionally, MOTI will present the crowd-pleasing disposable series product like MOTI PIIN C4000, ensuring an unparalleled selection of vaping devices for enthusiasts.
MOTI S Lite is a high-quality pod system specially designed for the ultimate flavor. Its powerful performance relies on MOTI's MCU chip. The exclusive customized FEELM atomizing coil makes each puff produce a smoother taste and denser smoke than other products. It combines stylish aesthetics with powerful performance. Its compact design ensures portability without compromising the vaping experience. With its puff activation mechanism and long-lasting battery life, the MOTI S Lite provides mobile users with a seamless and satisfying vaping experience.
In pursuit of the ultimate vaping experience, MOTI will also showcase MOTI PLAY at the Jakarta Vape Show. True to its name, MOTI PLAY is versatile and customizable, allowing users to explore a range of flavors and nicotine strengths. MOTI PLAY is equipped with a 0.96-inch Mega screen that provides real-time information, providing ultimate control and convenience for vapers. With its refillable pod system and rechargeable long-lasting battery, its portable card-shaped design is sure to captivate more visitors at the show.
As another highlight of MOTI's revolutionary product portfolio, MOTI PIIN C4000 will debut at the Jakarta Vape Show. This disposable product has an impressive 950mAh large-capacity battery, and it is equipped with a well-controlled ceramic coil powered by FEELM, which can bring up to 4,000 puffs of exclusive taste. In addition, MOTI PIIN C4000 adopts a visual pod design, which can check the status of e-liquid at any time. The 360° surrounding LED indicator light at the bottom will light up when you smoke, making you a unique vape lover among the crowd.

As the Jakarta Vape Show draws near, the anticipation and excitement are building. The MOTI will be leading the show with an excellent product lineup, designed to provide breakthrough e-cigarette solutions for e-cigarette enthusiasts.

So mark your calendars and join MOTI at booth B3K08 during the Jakarta Vape Show from August 3rd to 5th, 2023, to experience MOTI's groundbreaking products that blend innovation, style, and flavor and experience the future of vaping for yourself.
Read More