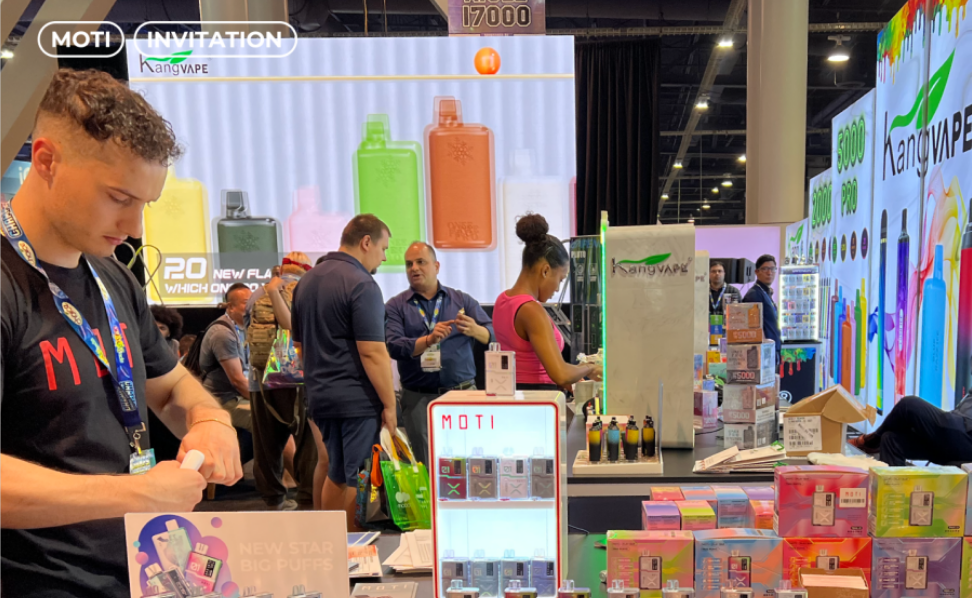 BY James Miller @ July 21, 2023
CHAMPS Trade Show, a renowned business-to-business platform for the counter-culture and smoking accessories industry, has kicked off its latest edition with an exciting lineup of innovative brands and products. Among the impressive exhibitors participating in this year's eagerly awaited event is MOTI Vape, a leading name in the vape industry. With its cutting-edge vaping technology, MOTI Vape is making waves at the CHAMPS trade show.
 MOTI Vape has gained a significant reputation for its commitment to providing high-quality and user-friendly alternatives to traditional tobacco smoking. As the vaping industry continues to evolve, MOTI Vape has successfully carved a niche by offering meticulously designed products that prioritize performance, convenience, and style.

Unlike numerous vape manufacturers on the market, MOTI Vape focuses on delivering exceptional products that seamlessly integrate modern design aesthetics and advanced functionality. A key highlight of MOTI Vape is its vape, which achieves a perfect balance between form and function. With sleek and compact designs, MOTI Vapes are both visually appealing and easily portable, catering to the needs of modern vape enthusiasts.

At the Las Vegas Champs Trade Show, MOTI is showcasing its groundbreaking disposable devices. These devices have gained immense popularity due to their superior performance, ease of use, and sleek design. Demonstrates MOTI's commitment to delivering best-in-class products and focus on innovation.
The atmosphere at the Moti booth has been so lively, attracting many CHAMPS trade show visitors to experience the revolutionary technology of MOTI Vape. The brand has made remarkable strides in crafting an unparalleled vaping experience. Their state-of-the-art devices are equipped with industry-leading features, including cutting-edge air flow systems, optimized power management, and leakage prevention. Additionally, MOTI Vape's proprietary ceramic coil technology ensures consistent vapor production, enhanced flavor delivery, and longer coil life.

The Las Vegas Champs Trade Show is a hub for industry professionals, providing MOTI with ample opportunities to form new partnerships, strengthen business relationships, and collaborate with other like-minded companies. This event serves as a catalyst for forging new paths and driving innovation within MOTI the industry.

As MOTI Vape establishes its presence at CHAMPS Trade Show, the company also has its sights set on future innovation. Vistors can expect to gain insights into upcoming products, developments, and strategic partnerships that will shape the vaping industry's future. Guided by a mission to provide safe, unique, and enjoyable vaping experiences, MOTI Vape endeavors to continually enhance its offerings and lead the industry with its commitment to excellence.


MOTI Vape's participation at CHAMPS Trade Show generates excitement among vaping enthusiasts and industry professionals alike. With their dedication to pushing the boundaries of vaping technology and commitment to customer satisfaction, MOTI Vape strives to emerge as a pioneer in the ever-evolving vape industry. Whether it's their sleek designs, cutting-edge features, or unwavering focus on safety, MOTI Vape's presence at CHAMPS Trade Show promises to be an unforgettable experience for visitors, propelling the brand to new heights.
Read More