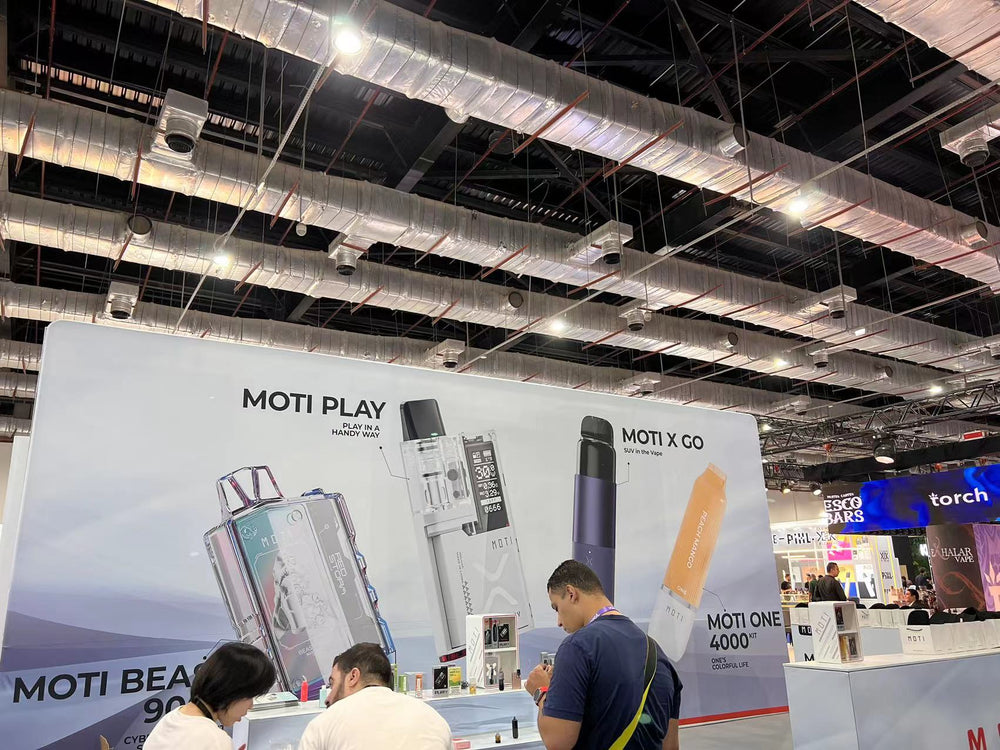 BY James Miller @ July 07, 2023
MOTI, a renowned player in the vaping industry, recently participated in the prestigious MEVS Middle East Vape Show 2023. As one of the leading brands in the industry, MOTI unveiled two innovative products, MOTI X GO and MOTI Play Bar 7500, drawing attention from experts, enthusiasts, and potential collaborators alike.
The 2023 MEVS Middle East Vape Show is the largest vape show in Egypt's history, with more than 90 global brands participating. The show provides an unparalleled platform for global vaping enthusiasts, providing visitors with the opportunity to learn about their favorite brands, meet new ones, and explore the market from different angles.

At the MVES show, many vape brands focus on pod system products like changeable pod vape, and disposable products, these are much more matching the need in this market, and MOTI is the one. MOTI X GO and MOTI Play Bar 7500 attracted much attention. These innovative devices reflect MOTI's relentless commitment to pushing the boundaries and delivering an enhanced vaping experience.
 MOTI X GO stole the show at the exhibition, showcasing a futuristic design that combines elegance and functionality. It is an innovative pod system that bridges the gap between simplicity and advanced performance. The Moti X Go is designed with a space capsule, giving it a unique look and feel. The device is built with an aircraft-grade aluminum alloy frame for durability. Equipped with a long-lasting 650mAh battery, it ensures uninterrupted smoking pleasure. Convenience is further enhanced by a Type-C charging port for fast charging. Additionally, the device is equipped with an AHM leak-proof design that prevents device leakage, making it ideal for experienced vapers and vapers alike.
Considered a game changer in the vape industry, the MOTI Play Bar 7500 is a high-performance disposable vape. Its key features include a built-in display, users can check battery life at any time, and track the amount of liquid remaining in the pod, the pod has an unrivaled flavor sensation from its premium e-liquid, resulting in a rich and satisfying vapor cloud. The device comes with a built-in battery and pre-filled e-liquid, which requires no charging or refilling, which is very convenient. The Play Bar has a sleek and stylish design, making it the perfect accessory for all-day vaping satisfaction.
MOTI has gained a lot from participating in the 2023 MEVS Middle East Vape Show. The overwhelming response from visitors demonstrated the strength of MOTI's cutting-edge products. With a focus on user experience and quality, MOTI has been recognized for its product excellence. Their commitment to innovation and customer satisfaction strengthens their position as the industry's leading innovator.

MOTI's presence at MEVS 2023 showcases the brand's unwavering dedication to transforming the vaping industry. Outstanding products such as the MOTI X GO and MOTI Play Bar 7500 took the spotlight, demonstrating MOTI's commitment to innovation, differentiation, and an unparalleled vaping experience. With cutting-edge technology and an edge that prioritizes user experience, MOTI has a bright and promising future that will continue to shape the future of vaping.
Read More