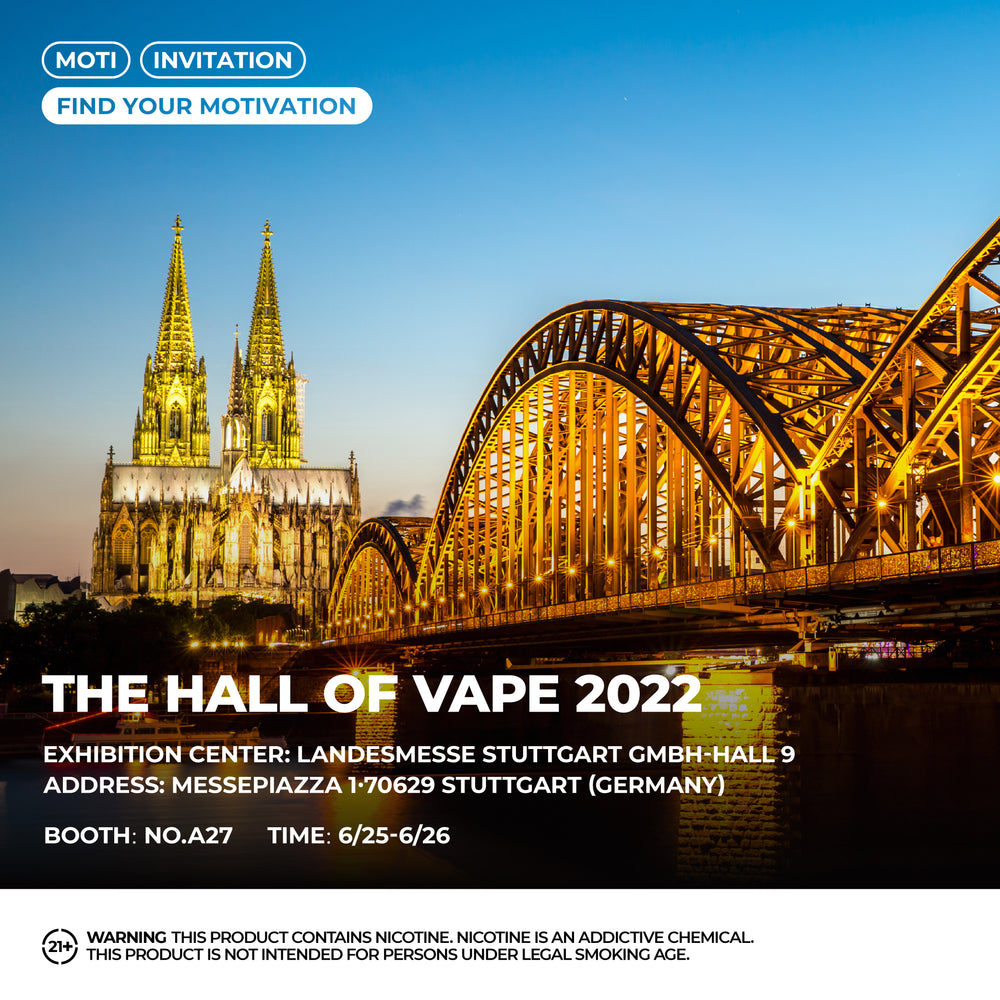 BY Mozart Liu @ June 23, 2022
What do you need most on hot summer days? It must be cool and refreshing ice cream or a bottle of ice-cold drink is also a good choice. If you want to have both, you need a MOTI POP!
Where to experience such an exciting thrill?
This weekend, bring your vape friends and go to the Stuttgart Vape Show! The exhibits inside are sure to make you linger!
 As the most influential electronic cigarette exhibition in Europe and the world, The Hall of Vape is the most complete professional vape exhibition, including professional speeches, new technologies in the industry, and the development trend of electronic cigarettes. Of course, there are also the most advanced and hot electronic cigarettes in the world, waiting for you to experience!
E-cigarettes are seen as an effective and healthy alternative to cigarettes, attracting more and more people every day. Currently, there are about 2 million e-cigarette users in Germany. E-cigarettes offer many benefits to ex-smokers. It's far less harmful, has a variety of flavors, and is less expensive. The rapid development of the German e-cigarette industry is enlarging due to smokers quitting traditional cigarettes.
 Electronic cigarettes, because they are safer and healthier than traditional cigarettes, have become the best solution for nicotine harm reduction. The variety, from the taste to the exquisite shape, attracts different vapers enthusiasts to use. It is understood that in Germany, which is known for its rigorous technology, this exhibition is a grand event for the technical inspection of major electronic cigarette brands.
 The MOTI vape, which is going to participate in the exhibition, brings out the recent masterpiece MOTI X Mini. Its technological appearance and advanced technology are very suitable for the concept of the exhibition. This POD MOD system vape device with a large amount of cloud production has a built-in 1150mAh rechargeable battery, which can bring a power output of up to 29 watts. It has become the star product of many exhibitions and has been successfully listed in many markets, attracting the attention of global e-cigarette users.
Of course, on summer days in Germany, iced drinks are an indispensable summer heat-relief product.
 This MOTI POP from MOTI looks like a popsicle, which is very appealing for e-cigarette users.
According to MOTI, MOTI will exhibit a variety of overseas new products at this show, including MOTI POP, MOTI BEAKER 5000, MOTI TUBE 3000, and other disposable atomization products, as well as the bomb-changing star products MOTI X MINI and MOTI K PRO, After many exhibitions, visitors were very satisfied with the taste restoration of MOTI products after the experience. The appearance of good taste + technological elements at the exhibition is inseparable from the cautious research and development of MOTI's 2019 laboratory and the quality control of fully automated product production lines.
This exhibition will be held in Stuttgart, Germany on June 25 and 26. For more information, click here to learn about the latest and trendiest electronic cigarette information!
Read More