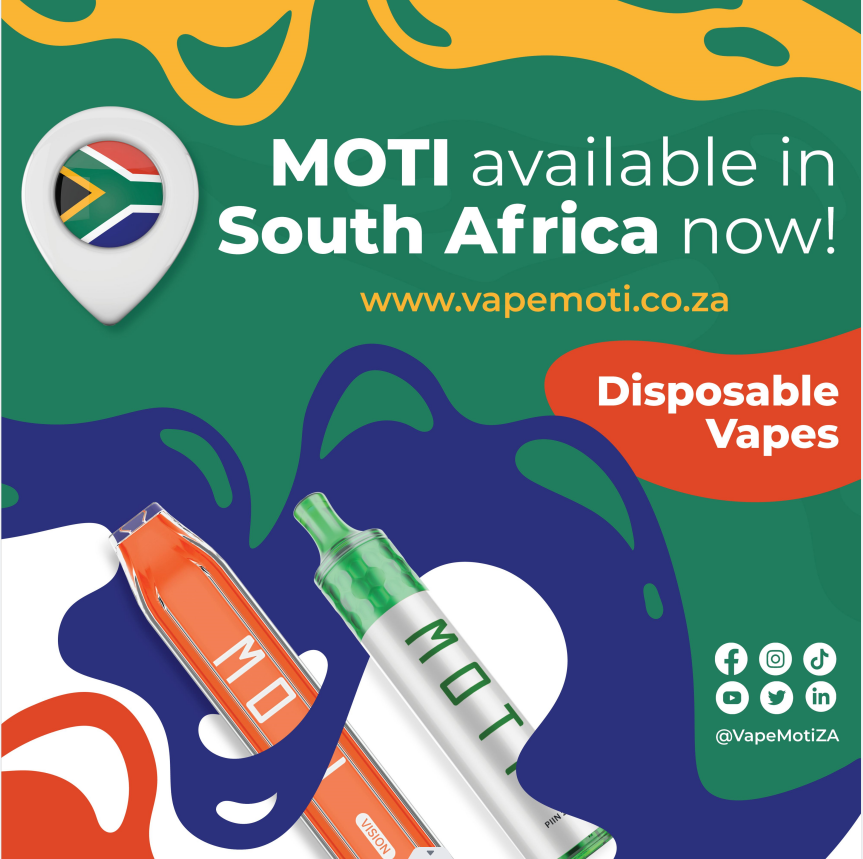 BY Mozart Liu @ October 14, 2022
Reliable source sites: South Africa's e-cigarette market was valued at $20.7 million in 2018 and is expected to register a CAGR of 18.6% during 2019-2024. Rising health awareness among the traditional cigarette smoking populace and increasing sales of e-cigarettes through online channels are driving the adoption of e-cigarettes in South Africa.

This also explains why so many e-cigarette giants have entered the market. MOTI is one of the well-known Chinese e-cigarette brand giants joining the South African market.

As a leading e-cigarette company, MOTI and other leading e-cigarette companies have early obtained the "Tobacco Monopoly Production Enterprise License (E-cigarette Brand Holder)" issued by the state this year. Since the establishment of the company, Leiyan Technology has upheld the heart of awe, maintained a high degree of industry self-discipline, actively implemented national regulatory requirements, and adhered to compliant development. Flame Technology has been deeply involved in the industry for more than ten years. Driven by by-products, it is good at scientific research and innovation, and its accumulated core technologies and patents are ahead of the industry. As one of the first enterprises to fully develop products that meet the national standard, Leiyan Technology adheres to high standards and strict requirements, upgrades new products, and is committed to providing a better experience with country-standard products.

The South African Bureau of Standards (SABS) said it has formed a National Technical Committee (TC) to develop South African national standards to guide the use of e-cigarettes and vaping products.

Currently, there are no guidelines or regulations for e-cigarette production in South Africa, and SABS will be responsible for developing guidelines and promoting standardization in this area, covering e-cigarette products and their components, including cartridges and reservoirs.

The bureau will also develop guidelines on terminology, sampling, testing and analysis methods, product specifications, safety, quality management and packaging, storage, and shipping requirements.


The SABS points out that e-cigarettes and vaping products are growing in popularity in South Africa, both for recreational use and economic activity. An estimated 350,000 people use vaping products, with sales of R1.25 billion in 2019.

"As the industry grows, it is necessary to establish national standards to guide product quality and provide consumers with some assurance that electronic devices and products used in vaping are safe to use," said CEO Jodi Scholtz from SABS.

The bureau will only focus on non-tobacco products.

Currently, the Ministry of Health has a draft bill on the control of tobacco products and electronic delivery systems that is under public investigation. SABS said it would focus on vaping products, taking into account the content of the draft bill, knowing that the standard is voluntary.

Nebulization is the use of an inhalation device to vaporize a liquid solution that may contain nicotine and other ingredients.

Plans to host the first technical committee meeting are underway, Scholtz said, and will be confirmed once the commitment of regulators and other key stakeholders is confirmed. SABS emphasizes that it will develop national standards for voluntary application.

"Currently in South Africa and the African region, there are no guidelines/regulations for vaping products and the TC will review existing regional/international standards, guidelines, studies, policies, and other documents to develop a voluntary national standard for South Africa.

"Once the TC participants reach a consensus, the draft standard will enter a public survey phase where the public can comment and/or submit comments on the draft standard. Then, in the next phase of developing the draft standard into a national standard (SANS), all comments will be taken into account," Scholtz said.

According to Scholtz, it takes on average about 300 days to develop a national standard from scratch; however, the duration of the process depends on the availability and commitment of TC members, the availability of published research and documents, consensus within the TC, the availability of Robustness and various other logistical requirements.
Read More