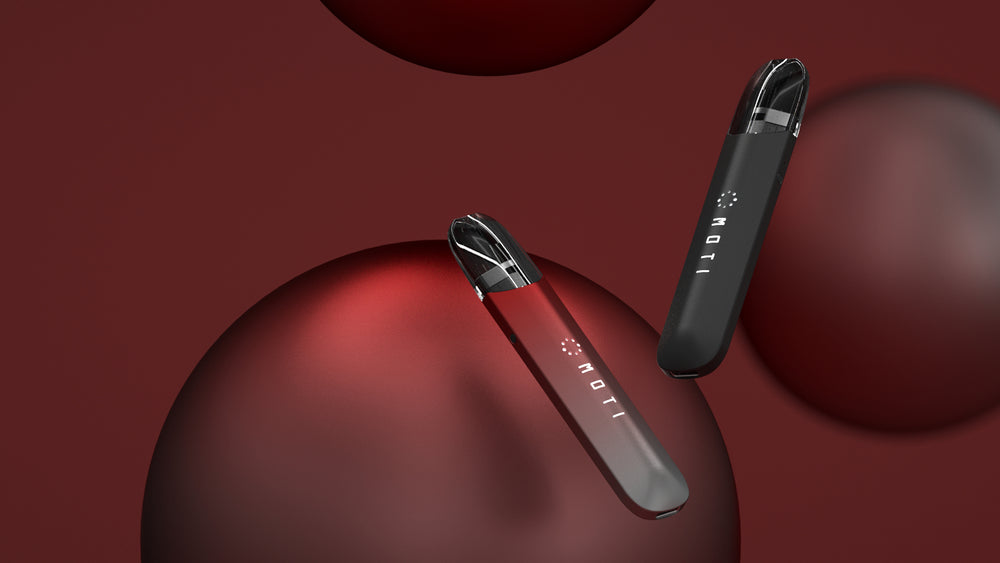 BY Jessie Tang @ June 21, 2021
MOTI launched an iconic prefilled pod system MOTI S LITE. It claims that the device has integrated 2 million user data into a power curve fitting to meet the preference of most people. The data was collected from its previous launched device MOTI S (tested and launched in mainland China). MOTI·S Lite is a premium pod system that offers many innovative functions.
Sleek Design
The device adopts CNC milling technology. There are four colors for you to choose from. Lagoon Blue, Sunset Violet, Flame Red, and Knight Black. The first threes are gradient colors, looking very sleek and smooth. The chimney of the pod is designed wide with a tiny groove on the mouthpiece, which greatly lessens unwanted and undelightful experiences from condensate and spit back. What's more, it adopts POGO Pin and magnetic designs to ensure the connection of pod and device to be stabler and more solid.
Type-C Charging
The charging port is Type-C and supports fast charging. It takes less than 1 hour to fully charge your MOTI S LITE. MOTI S LITE also has a built-in 400mAh battery to ensure longer and enduring use.
Advanced Customized FEELM Coil
One of the key features of MOTI S LITE is the advanced FEELM coil. MOTI customized FEELM coil especially for MOTI S LITE, which is an exclusive coil in the market. Each pod is 1.8mL. which is deliberately designed to solve the condensation and carbon deposit problems to achieve excellent taste. The 1.8mL capacity is MOTI's conclusion after multiple times of simulation tests on chasing the ultimate taste.
Five-Layer Leak-Proof Construct
Leak-proof is also tested. I've used MOTI S LITE for a few months, and I haven't experienced any liquid leakage yet. This is credited to MOTI S LITE's five-layer leak-proof construct.
MCU Chip
MCU chip is another thing I have to mention about MOTI S LITE. When using a prefilled pod system on market, you might find that your first puff of a pod tastes lighter than your following puffs. The MCU chip plays a very important role in solving this problem. It helps the stability of temperature and precisely controls it within the range of 100-220℃, to fully atomize the liquid and maintain a pure and smooth taste without producing toxic chemicals.MOTI S LITE is also the first prefilled pod system that applies "cold start". Cold start refers to the situation when having the first puff and experiencing light taste. If the temperature of the coil is at room temperature or low, the heating will be relatively slow. Users might experience a plain vape. MOTI S LITE can recognize "cold start" and increase the power, thus instantly heat and provide a satisfying first puff.
Turbo mode
MOTI designed an eastern egg for MOTI S LITE – the turbo mode – a very interesting and fun feature, meanwhile quite useful. In my opinion, it gives users better experience and expand their experiences that they won't have with other products.  If you want to experience a stronger and fuller flavor, just insert the pod in and out 3-4 times without completely plugging into the device. When the light turns purple and the device vibrates, you can enjoy 3 times fuller puffs, or the turbo mode will automatically be switched back to normal mode in 60 seconds. I've tried it and the flavor did get stronger with bigger clouds, too. It was very satisfying considering it is only a pod system.

6 flavors were released first with the launch of MOTI·S Lite.
Exotic Passionfruit: Passionfruit flavor tastes sweet and sour, which is my favorite. It doesn't make me feel bored of the flavor easily.
Delight Mandarin: Second favorite of mine. It has appropriate coolness which gave me a nice throat hit. I think it's great for summer. It's like an orange soda.
Chilled Time: Chilled Time is the cola flavor. It's iced and sweet with a hint of bubbly-feeling taste. This is also one of my top choices. Whenever I'm sick of one flavor, I'll go back to this one. 
Tropical Pineapple: Pineapple tastes the same. It's very summery and tropical.
Fresh Mango: I've been a fan of MOTI's mango flavor. I liked the MOTI Classic mango pod. Fresh Mango S Lite pod tastes very sweet. It's not an iced mango juice. It's just like the mango fruit that's been just harvested. If you don't like iced flavors, try this one.
Cafe Latte:  I am a coffeeholic. I drink coffee every day. Therefore, when I was trying this one, I was very excited. It has a very mellowy taste, like a latte with a lot of foam. It has a very low level of sweetness and coolness. which is very suitable for people who don't like sweets. If you like coffee, definitely try this one out.
Recap
Overall, MOTI S Lite is a very high-quality and well-performed pod system. MOTI spent months in the lab just to create innovation for the customers. As a company which core is product, you can tell that MOTI shows 100% sincerity in MOTI S Lite.
Testimonials (Check their reviews!)
"Danielle: The MOTI S Lite is a generally solid closed-system pod vape. The design is attractive and the build quality is great. The flavors that I tried all taste good and they're satisfying to vape on all day. "
"Captain Dirty: The dual-hole air intake design is great, and the size of the air hole is also very particular. Whether it is technology or configuration, MOTI S Lite is a pinnacle product. Excellent craftsmanship of MOTI S Lite brings the best vaping experience. MOTI S Lite brings a brand new era of data-powered pod vape."
"VapingHardware.com: 

An extremely lightweight and very well designed pod. It looks and feels a quality product and the color grading looks stylish. Flavor is amazing and the battery life is impressive. "
Read More