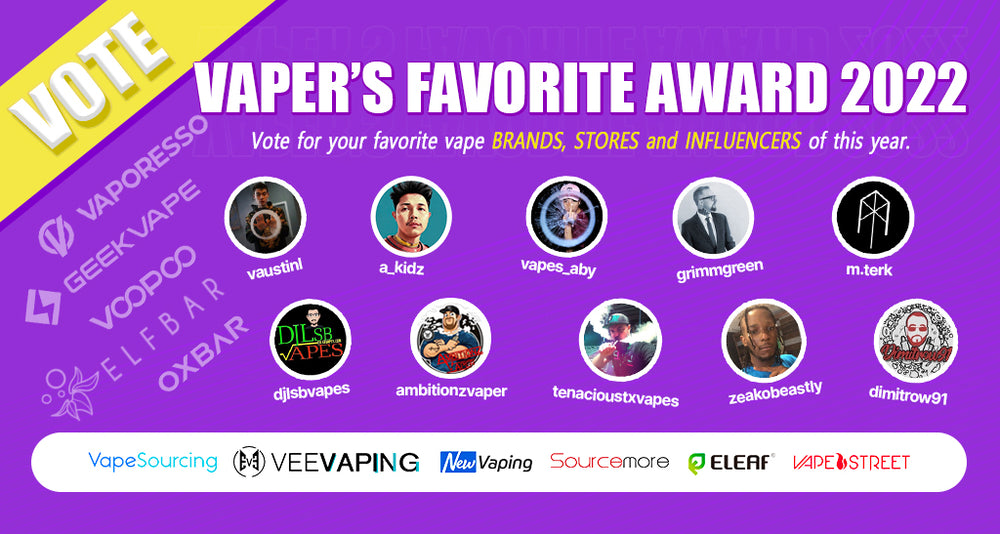 BY Mozart Liu @ January 18, 2023
Introduction
The Vapers' Choice Awards are an annual event that honors the best products in the vaping industry. Vapers' Choice Awards is an online program to reward high-quality e-liquid brands, media publications, bloggers, and influencers whose work contributes to the vaping community and offers advice. The competition may have come to a close this year, but you can still go down the list and vote for your favorite nominee. We are proud to announce the brand new Vapers' Choice Awards 2023 event, which will be held this year. We want to share with you all that we've been working on for quite some time now and we're excited about our upcoming event. In this post, we'll go over the winners and nominees of each category and explain why they're so great!
(click to vote here)
My Vape Review is proud to announce the voting event for Vapers' Choice Awards 2022. This event is organized by MyVapeReview.com, which provides honest reviews of the best vape products on the market. Each year, they organize this prestigious event to honor the best e-liquid brands and products around the world. The winners are selected based on the reviews left by their loyal readers and customers. To win a category, a brand has to achieve a certain number of votes.
The Vapers' Choice Award is the most credible and authentic vaping award, which honors only the best vape products and brands. The event is organized by My Vape Review, an online platform that provides honest reviews of e-cigarettes and other vaping products on the market. It has been more than four years since the last awards were held, but now it's time for a new one! The voting event will take place in May 2022 and will award the top-rated best vape products.
Showcasing the best brands and businesses in the vaping industry. BEST BRAND OF THE YEAR – this is a public online vote in which the vape community can choose the best vape brand of the previous year. It's an online public poll in which you offer your opinion by voting. The results will be visible to everyone and will be used as a reference point among vapers while buying vape gear.
Duration: 01/01/2019 - 02/08/2019
Awards for 2023
BRAND
Best Disposable Vape Brand (North America)
Best Disposable Vape Brand (Europe)
Best Disposable Vape Brand (CIS)
Best Disposable Vape Brand (Middle East)
Best Disposable Vape Brand (Southeast Asia)
Best Disposable Vape Brand (Latin America)
Best Vape Mod Brand best Pod System Brand
Best E-Juice Brand ONLINE VAPE STORE
ONLINE VAPE STORE
Best UK Online Vape Store
Best US Online Vape Store
Best Money-Saving Online Vape Store
INFLUENCER
Best YouTube Vape Influencer
Best Instagram Vape Influencer
Duration: 2023/01/01 – 2023/02/08
Win Big Rewards in the Event
If you are a vaping and vape reviews fan and want to win some pretty cool prizes, then you're in the right place. My Vape Review & Vapefind.com are proud to present The Vapers' Choice Awards 2022 – hosted by Vapefind.
This is your last chance to enter a fun, interactive vaping event. Enter today to win one of the many prizes!
Massive Giveaway
Will you soon be vaping? Why not find an e-cig that best matches your needs? The first annual Vapers' Choice Awards gives you the chance to win a prize from one of these excellent brands! The first online vaping event, sponsored by Vapefind.com and My Vape Review, has drawn in thousands of fans worldwide! This is the last day to join in the giveaway. Do you want to win a prize?
All prizes are provided by MOTI Vape, one of the most popular brands in this event. Of course, it is also the most user-friendly brand, loved by many users.
My Vape Review will pick 200 winners among all voters to offer big prizes after the event ends.
1st Prize: iPhone 14
2nd – 3th Prize: Apple Airpods 3rd generation
4th – 8th Prize: Apple Home Pod Mini
9th – 50th Prize: at least 1 vape mod kit
51st – 100th Prize: at least 1 pod system kit
101st – 200th Prize: at least 1 disposable vape kit]
- Join the giveaway today! Share your way to win prizes here.
Want to get all the best new vapes? Join The Giveaway With Vape Aficionado:
        The event is run by Vape Aficionado, one of the most popular vape blogs in the world. Now they're hosting a massive giveaway including all the top brand-new vape devices.
Maximum chance for you to win! Don't miss out on it.
Online Vape Store Coupons
Vape on, like a boss:
Our mission is to provide excellent and detailed reviews of online vape stores. You get access to all the juicy details that no one would ever tell you. If you are into vaping, head over to our events page and sign up for our newsletter! We'll send you vape store coupons and exclusive deals each month that will save you money!
Join us today for savings up of to 50% on the hottest e-juices and vaping accessories.
Conclusion
We hope that this list of the best vape products of 2022 has given you some ideas for what to look for when it comes to buying your next device. We'd love to hear about any other categories that we missed out on or if there's anything else you would like us to add, so let us know in the comments section below!
Our goal is not just to help you save your time, but also to make your votes count. We hope that you can use our platform to share your opinions with the world by voting for the best brands of reputable e-cig manufacturers and vape shops. So, make your vote count, and welcome to Vapers' Choice Awards 2022!
Read More