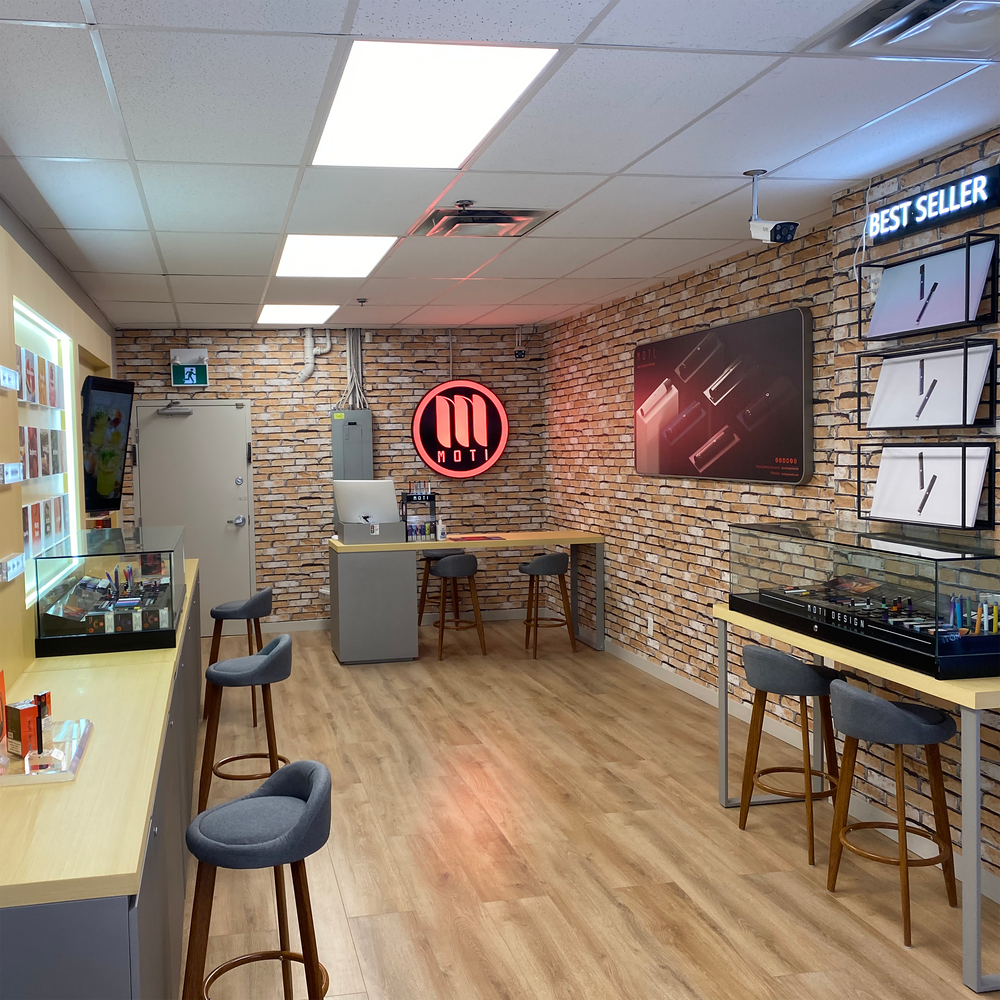 BY Jessie Tang @ September 17, 2020
To all the vapers in Vancouver, you can now buy MOTI products in the FIRST MOTI store in Canada – M VAPE ! During the opening period, there is also a huge promotion.
Where is M VAPE
M VAPE is located on 1575 W Pender ST, downtown Vancouver. The location is very convenient. This central downtown location is within walking distance of Vancouver's many amenities such as Robson Street, Pacific Centre, Vancouver Convention Centre and many top restaurants. The Burrard Skytrain and Translink bus stops provide a direct connection to the West Coast Express, Waterfront Seabus and the Canada Line.
MOTI – Find Your Motivation
MOTI is an e-cigarette company founded in 2018 and the team was established in 2013 with a vision to help people quit smoking. The MOTI team has been active in this industry for years and has developed many innovative vape products. Honored as one of the TOP 10 E-Cig brands in IECIE EXPO, MOTI focuses on product development and improvement to give users continuous innovation and great products. MOTI has its own high standard manufacturer. It also works closely with powerful and reliable partners such as SMOORE and EASTMAN as strong support.
MOTI Products Awards List
MOTI not only cares about the product performance, it knows the need of a stylish outlook. Its products have won many global design awards.
MOTI has launched 5 products including vape starter kits and disposable e-cigs, which have helped smokers around the world reduce and quit smoking.
MOTI PIIN series include the light-weighted pocket-size MOTI PIIN and double sized PIIN Plus, which give customers different choices to cater for their different preferences.
MOTI MEGA is the first DTL disposable vape with two nicotine options. 
MOTI Classic can satisfy the basic need of an e-cig user and comes with 10+ flavors.
Since 2018, MOTI has opened 430 stores including direct chain stores and franchise stores, and has been sold to 30 countries. The numbers are still rising. M VAPE is the FIRST offline store of MOTI in Canada. It is fully stocked with all collections of MOTI products. In M VAPE, customers can enjoy professional service and great products.
About M VAPE
M VAPE is dedicated to providing a comfortable and pleasing in-store shopping environment. After walked in, you can see that M VAPE store is newly furnished with wooden floor and a big wall of product display area. The whole store is in modern industrial design style in accordance with MOTI brand image. During shopping, customers can sit comfortably and try out the products. The staffs are also trained professionally and always ready to help customers.
Opening Sales (Free Porducts!)
From Sep 1st to Sep 30th, come buy a pack of MOTI Pod to get one MOTI starter kit for FREE ($39.9 value). Check the poster below for more promotion details!
The Big Date
M VAPE store will open to the public on Thursday, September 11th. The location is 1575 W Pender ST, Vancouver, BC V6B 1V5. The contact is 604-687-7731. Can't wait? You can also visit motivape.ca to get more information in advance.
Read More